Banner design 6: Flash version
Banner design 6: Static version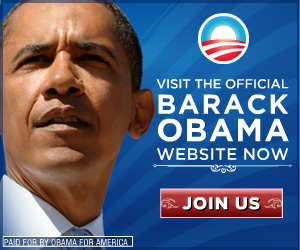 "Support the Campaign" Design
Available statistics/information
The simultaneous introductions of this design and the next Obama design to the online distribution led to an incremental 3% increase in the donation rates to the campaign.
Play
Roll over the banner to reveal the painted animation.
Notes
What I learned from this design was that the hundreds of drawings you see of Barack Obama that look like this are not easy to do as a vector graphic–no matter what anyone tells you. Other than that, it was a lot of fun to develop and animate this concept.
Date completed
September 22nd, 2008
Messaging
• Help Elect Barack Obama President
• Visit the official Barack Obama Website now
• Join Us
Sizes
300×250 (shown) 160×600, 728×90