Banner design 9: Flash version
Banner design 9: Sandwich version
Banner design 9: Static version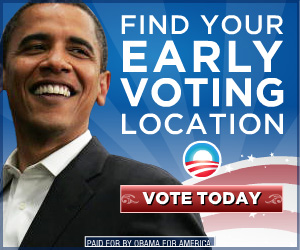 Vote on Your Lunch Hour
Available statistics/information
This "lunch hour" banner design was the Obama campaign's best-performing early-vote creative, outperforming the others by 30% in terms of lookup conversions.
Play
Roll-over the flash banners for either a lunchbox or "Vote" sandwich. Yum!
Notes
The campaign didn't even blink when I told them about the lunchbox concept but the sandwich that appears on some of the sizes raised eyebrows… "Let's give it a shot. Just make sure its a very American sandwich."
I promise that there is no arugula on that sandwich.
I was shocked to see that there weren't any worthwhile vector stock images of lunchboxes at istock, so I drew that one. If you're putting this Obama lunchbox design on your own lunchbox please send me a sample. I have sandwiches waiting.
Date completed
October 15th, 2008
Messaging
• Have you voted yet?
• Vote for Barack Obama on your lunch hour
• Find your early voting location
• Vote Today
Sizes
300×250 (shown) 160×600, 120×600, 728×90