Banner design 8: Flash version
Banner design 8: Static version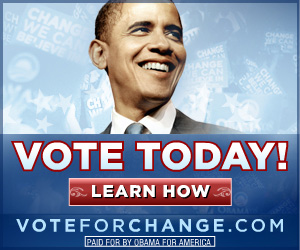 Early Voting Design
Available statistics/information
The look in the final frame in this banner was developed by the main office in Chicago, intended to be the prime feel of ads across the board. The request was: use the message and art in the banner, find an interesting way to add "Early Voting Has Begun," and then adapt the banner to the many sizes listed below.
Play
Roll-over the banner for a reminder to vote early.
Notes
The animation for this design was inspired by promos I saw for South Park on Comedy Central.
Date completed
October 11th, 2008
Messaging
• Early… Voting… has begun
• Vote today!
• Learn how
• VoteForChange.com
Sizes
300×250 (shown) 160×600, 120×600, 120×60, 728×90 120×90, 234×60